Voting for Youth Generations
Problem:

Out of all the age groups in the U.S.A., young adults (18-29) are the least likely to vote in local and presidential elections.
Opportunity:

How might we encourage and make it easier for young adults/college students to vote?
Proposed solution:

An app (as an extension of the university portal) that helps students vote by addressing three key pain points: lack of access, education, and community. This experience meets students where they're already at: their phones and student accounts.
VIEW XD PROTOTYPE ︎
A STUDENT PROJECT FOR
UNT Student Affairs Department

PRIMARY USERS
College Students

ROLE

Sole Researcher and Designer

TOOLS

Illustrator, InDesign, Xd, Miro, Zoom

DELIVERABLE

App

︎︎︎
How it works.
︎
PROMPTS STUDENTS TO REGISTER TO VOTE
Like a trusted friend, this app prompts college students to
register to vote

at the appropriate time.

Get a

quick "to-do" list

to stay on track of timeline and tasks.

Reference the

quick facts

about campus events, organizations, and resources.
PURPOSE

To not miss a deadline by mistake.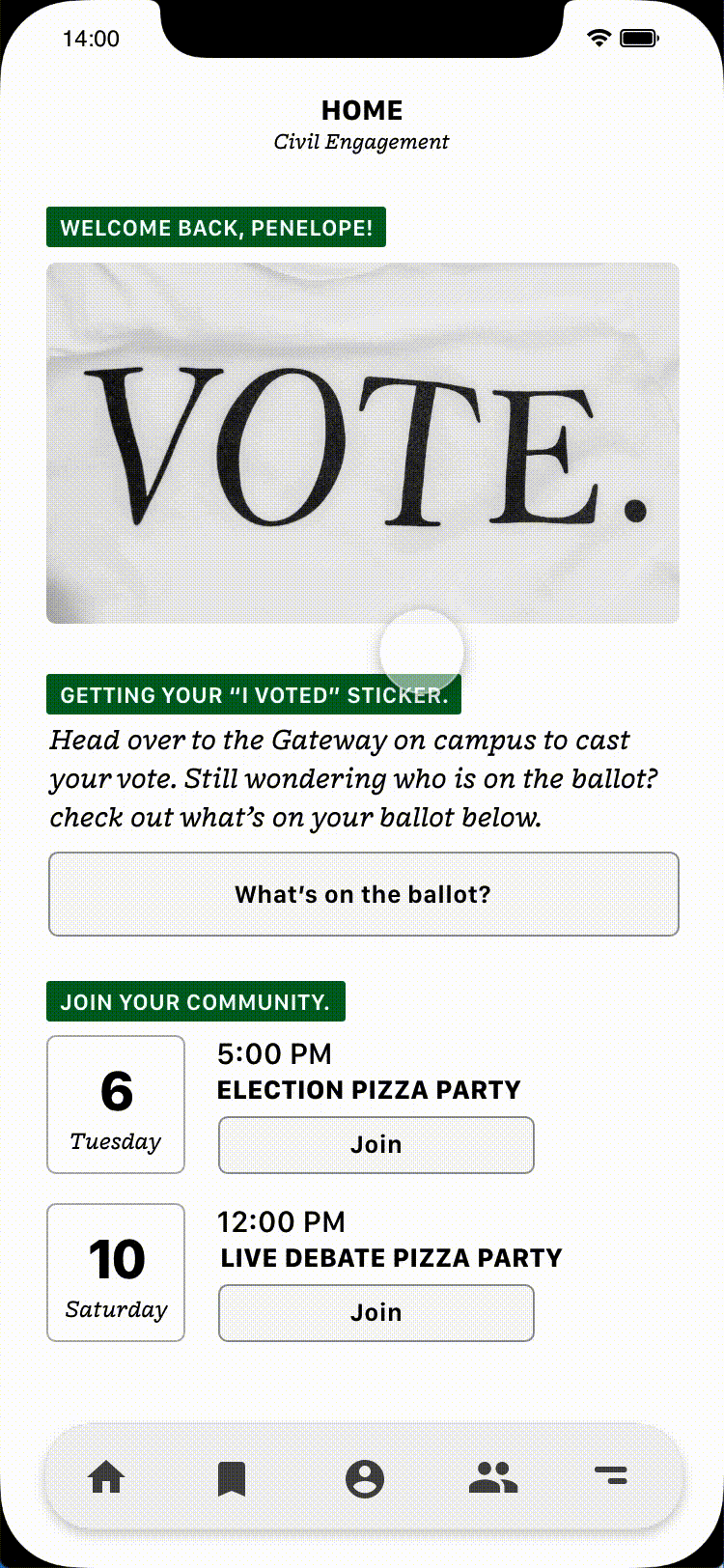 ︎
INFORMS ABOUT RUNNING CANDIDATES
Like a trusted friend, this app helps students
learn about candidates

through credible sources.

Explore

local and national

candidates and

stances.
PURPOSE

To make a well-informed decision and make space for critical thinking.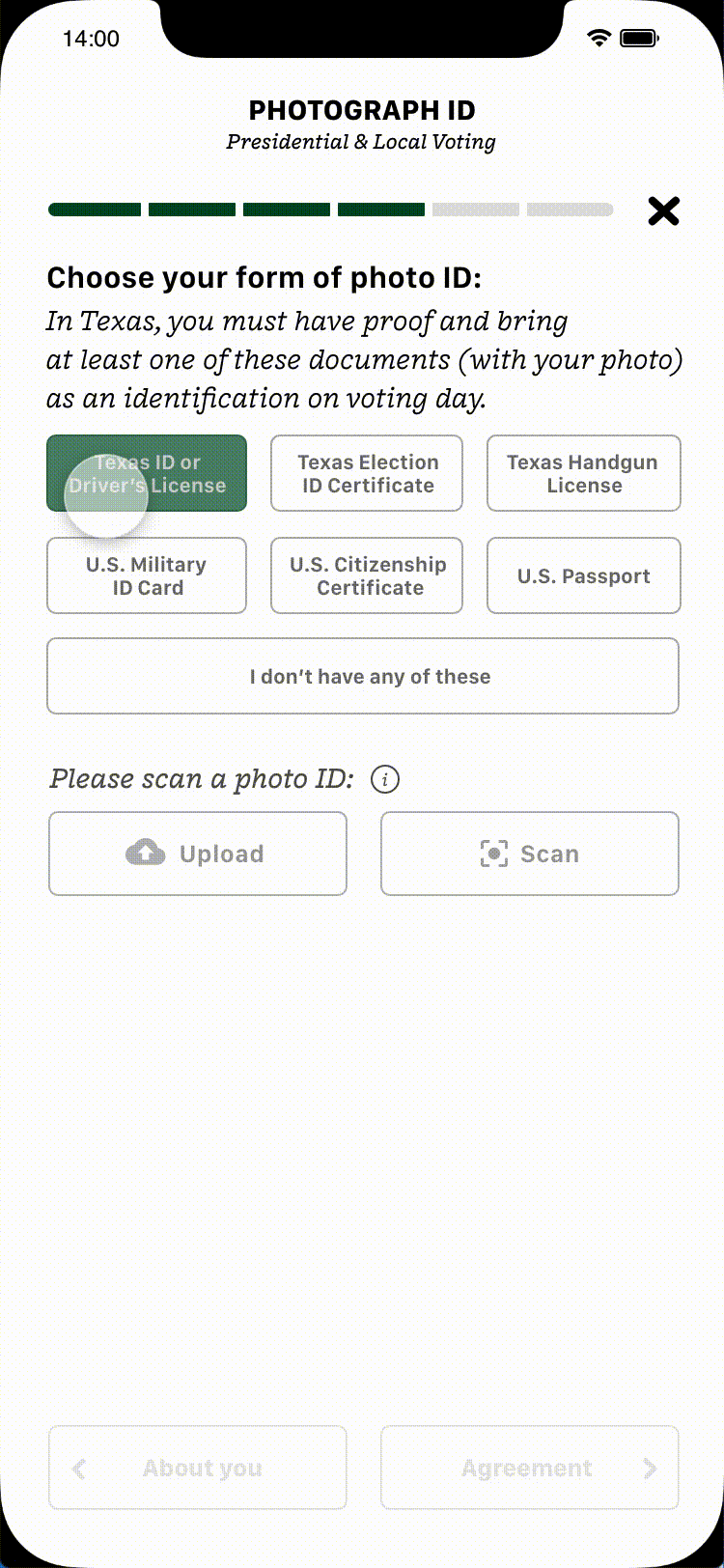 ︎
ENSURES STUDENTS HAVE A VALID ID
Like a trusted friend, this app ensures that students have a

valid form of identification

to vote.

Effortlessly
scan your ID

through your camera to check its eligibility.
PURPOSE

To not be sent home because of an invalid form of identification.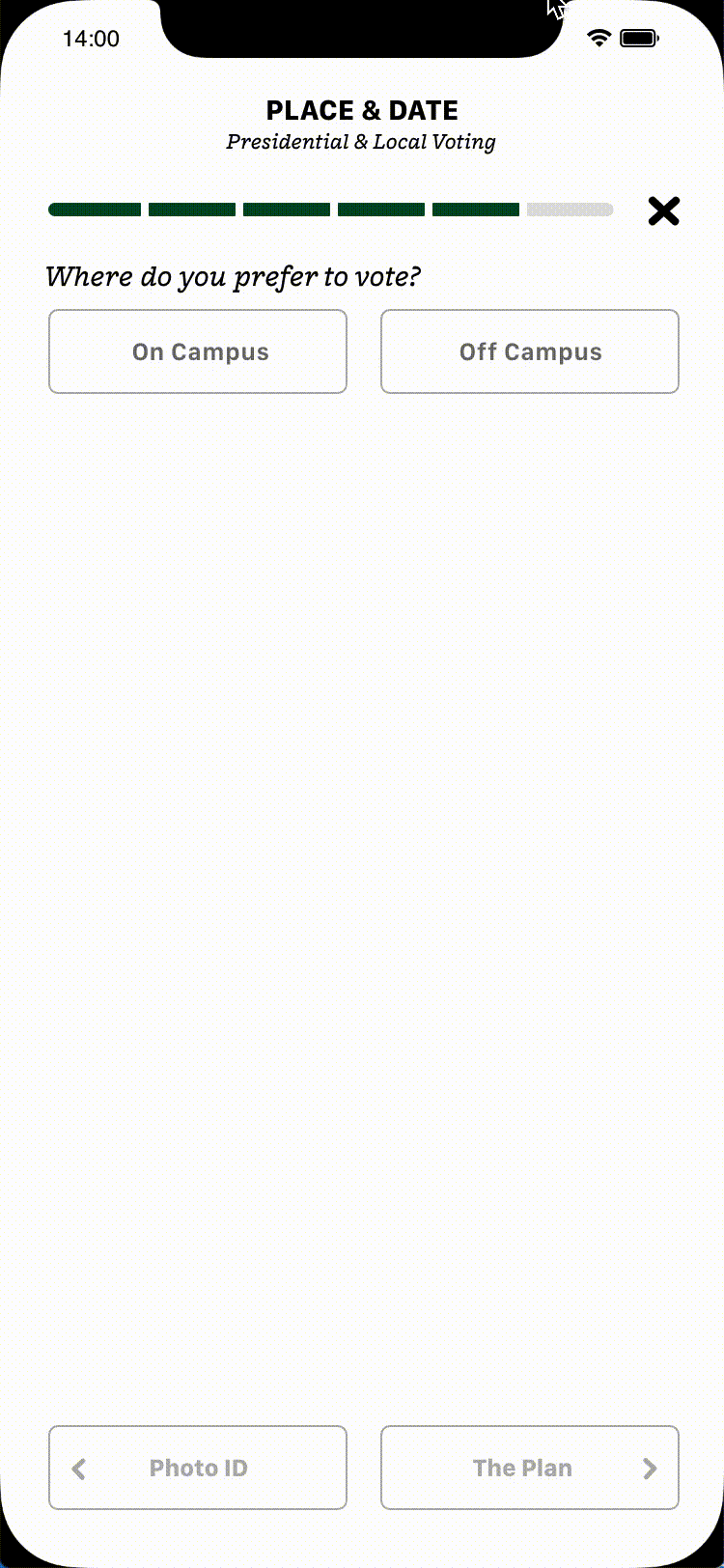 ︎
HELPS PLAN WHERE & WHEN TO VOTE
Like a trusted friend, this app helps students
plan where and when

to vote at their best convenience.

Make a plan with a preferred form of

transportation

in mind (whether it be using a car, bike, skateboard, or legs).

Branch out and

plan with friends.



And finally,

set a reminder

to remember to go vote.
PURPOSE

To no longer have "I don't know where or when" as an obstacle to voting.
Problem: Young adults = least likely to vote.
︎
A STAGGERING STATISTIC
Out of all the age groups in the U.S.A., young adults (18-29) are the least likely to vote in local and presidential elections. But why?





︎

CURRENT STATE OF VOTING AT THE UNIVERSITY OF NORTH TEXAS (UNT)

After researching and observing UNT's voting information and processes, I quickly noticed that information was scattered and not easily found throughout a student's daily routine. This exposed the gap between voting information/resources and college students.
Research: understanding the "why" with college students.



︎

INTERVIEWS & KEY TAKEAWAYS

I interviewed young adults who have never voted before. I applied ethnographic research methods, which consisted of meeting one-on-one over coffee or some pizza (or Zoom). During that initial time, I got to know them and then asked them more specific questions about voting. Our conversations revealed a few patterns:
LACK OF ACCESS
Access to voting information is not easy to come by for new voters. As one who does not use social media, interviewee LANE shared that he lacked access to key information for getting his absentee ballot. As a result, he was unable to vote because of time constraints. Similarly, interviewee ANTHONY lacked physical access since he registered at a county that was inconvenient for him to vote in.
LACK OF EDUCATION
When asked about the steps it takes to vote, interviewee ASHLEY was unsure on the specifics of each step. Interestingly, many of the interviewees were not able to explain voting concepts like the electoral college. These instances exposed the education gap among young adult non-voters.
LACK OF COMMUNITY
Interviewee ERIC was quick to share that non of his friends voted (except his parents). He suggested that inviting and joining others would compel him to vote.
Archetypes.



︎

ARCHETYPE 1: THE BUSY, MISSION-MINDED STUDENT


GUIDING PRINCIPLE: EXCEL IN ACADEMICS
Penelope is a
full-time freshman

. This is her first semester surrounded by new people. No car. COVID-19 has made her feel lonely and isolated.

INNER THINKING: TOO BUSY TO THINK ABOUT VOTING

Although it's election season, Penelope is

unaware

of current political events because of her

busy schedule

, part-time on-campus job, and loads of homework. Voting feels like a

foreign concept

and she has

no motivation

to go out of her way to look into it.

Voting is the last thing on her mind.

GOALS / NEEDS

︎︎︎ Good grades

︎︎︎ Complete daily tasks efficiently

︎︎︎ Human connection

︎︎︎ Easier way to learn about on-campus resources and events (voting)

PAIN POINTS / FRUSTRATIONS

︎︎︎ Too busy to think about voting

︎︎︎ Unfamiliar with voting process

︎︎︎ No car (limited mobility)

︎︎︎ Feels disconnected (no community, COVID)

︎︎︎ Her social circles are also unaware of voting

︎︎︎ Voting swarming her social media





︎

ARCHETYPE 2: THE COMMUNITY-DRIVEN STUDENT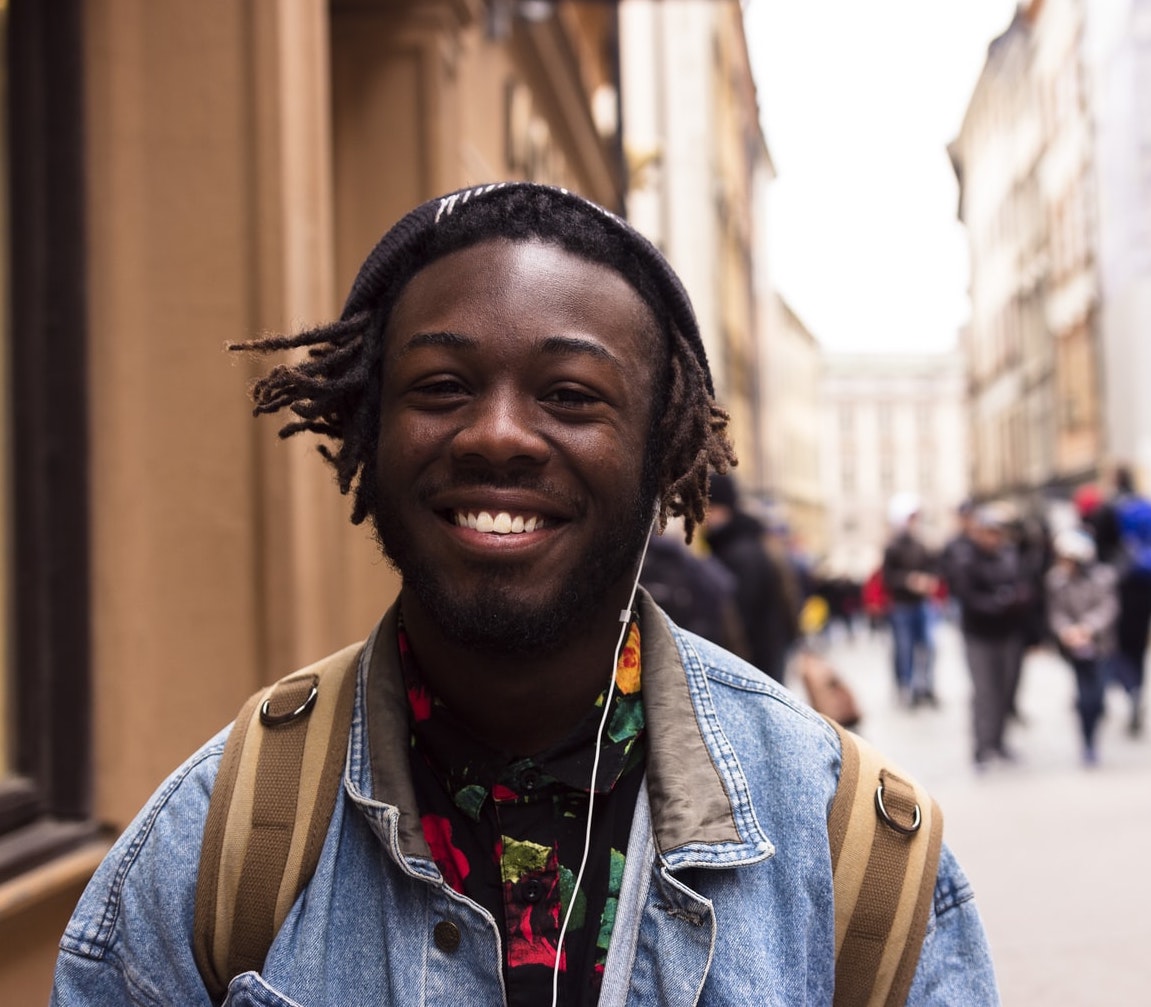 GUIDING PRINCIPLE: COMMITMENT TO HIS COMMUNITY
Alex is all about his
community

. He's committed to deepening his friendships during college. He is not too interested in academics but learns a lot from his peers.


INNER THINKING: VOTING IS OUT OF SIGHT, OUT OF MIND

Although it's election season, Alex is too busy planning and hanging out with his friends to be concerned about what happens outside his social circles. None of his friends talk about voting so he's generally uninterested in investigating for himself.
GOALS / NEEDS
︎︎︎ Deepen friendships
︎︎︎ Mentor freshmen
︎︎︎ Become influencers at college
︎︎︎ A balanced school/person life
PAIN POINTS / FRUSTRATIONS
︎︎︎ Voting ads populating his social media
︎︎︎ Unfamiliar with voting process
︎︎︎ Cramming class assignments
︎︎︎ Club president bust responsibilities
Penelope's journey.
IMPLICATION
Penelope needs to be met where she is already at: on-campus, her phone, and student portals.
College students need
guidance

and

reminders

throughout the entire voting process.
---
FEELS
︎
︎︎︎ Hopeful
︎︎︎ Excited
︎︎︎ Curious (about voting/current events)
︎︎︎ Longing for community/connection
︎
︎︎︎ Anxious (new territory)
︎︎︎ Insecure (about fitting in)
︎︎︎ Lonely (missed out on opportunity to vote)
︎︎︎ Confused
︎︎︎ Frustrated
︎︎︎ Pressured (packed schedule/to-do list)
︎︎︎ Busy
︎︎︎ Overwhelmed (with school)
︎︎︎ Peer pressure (what might others think of my voting decision)
---
DOES
︎
︎︎︎ Talks to roommates about elections
︎︎︎ Browses social media and sees voting ads
︎︎︎ Spends late nights in her dorm room
︎︎︎ Constantly on her computer and Zoom
︎︎︎ Stops by for free pizza at debate party
︎
︎︎︎ Ignores most voting campus tables
︎︎︎ Constantly rushing to her next task
︎︎︎ Ignores most emails
---
THINKS
︎
︎︎︎ Who do I even vote for?
︎︎︎ I wonder: how would I vote?
︎︎︎ I'm old enough, right? 😁
︎︎︎ What information do I trust?
︎
︎︎︎ When is voting day, again? I forget.
︎︎︎ I have too much homework to go vote.
︎︎︎ Will my vote make a difference?
︎︎︎ What if I vote for the wrong person?
︎︎︎ What if I regret my vote?
︎︎︎ Maybe I'll vote next year...
︎︎︎ Voting ads on media and TV are annoying.
︎︎︎ I don't like political party stereotypes.
---
SAYS
︎
︎︎︎ Have you ever voted before?
︎︎︎ Is your Insta feed swamped with elections?
︎︎︎ I don't have time to vote this year.
︎

︎︎︎ I'm too overwhelmed to think about this.
︎︎︎ Are there any deadlines?
︎︎︎ I'm too young to think about this.
︎︎︎ If my parents didn't vote, maybe I shouldn't either.
︎︎︎ I don't know what I need to vote.
Side note: patterns among voting students.



︎

RELATIONSHIP BETWEEN VOTING, COMMUNITY, AND TECH


Business & User Goals.
︎

BUSINESS GOAL: STUDENT AFFAIRS
︎︎︎ Increase student engagement with voting
︎︎︎ Develop university voting initiatives
︎︎︎ Connect students to on-campus voting resources
︎

(PRIMARY) USER GOALS: NON-VOTING/FIRST TIME VOTERS

︎︎︎ Quick way to learn about voting
︎︎︎ Ability to complete tasks needed for voting
︎︎︎ Feel like they are not alone in the voting process
Ideation.



︎

GENERATING IDEAS


KEY

︎

How might we statement (addressing 3 key pain points)

︎

Digital

︎

Physical

︎

Experiencial

✅ Pursued concepts






︎

PRIORITIZING IDEAS


Strategy.
︎

A TWO-PART SYSTEM
This system has two parts.
➊ app aims for immediate impact to increase student voting turnout.
➋ the game approaches how voting principles and practices can be taught to and adopted by middle schoolers. (Not shown in this case study.)
See early and in-progress iterations of Part 2
HERE ︎︎︎
︎

SIDE NOTE: BRIDGING PRODUCTS TO STUDENTS THROUGH...
︎︎︎ Posters (quirky and fun)
︎︎︎ Train on-campus influencers to share info
︎︎︎ Social media advertisement
︎︎︎ Consider how this product fits into the overall UNT ecosystem
︎︎︎ Partnering with already established clubs
︎

HYPOTHESIS
If a civic engagement app helps provide the access, educational resources, and community that many college students are lacking, then young adults may be more likely to vote.
︎
STOPPING THE NON-VOTING CYCLE WITH SHORT- AND LONG-TERM GOALS
My goal is to make it easier to vote by meeting students where they are already at: their phones and student portal accounts.

Although the goal is to cultivate quick and

short-term change

(more voting among young adults now), it is important to consider how this issue came to be.

The goal is that young adult voter turnout would increase over time for

l

That is why I consider how we might better equip younger generations (before they reach voting age) to vote.
General voting process.
Design.
VIEW XD PROTOTYPE ︎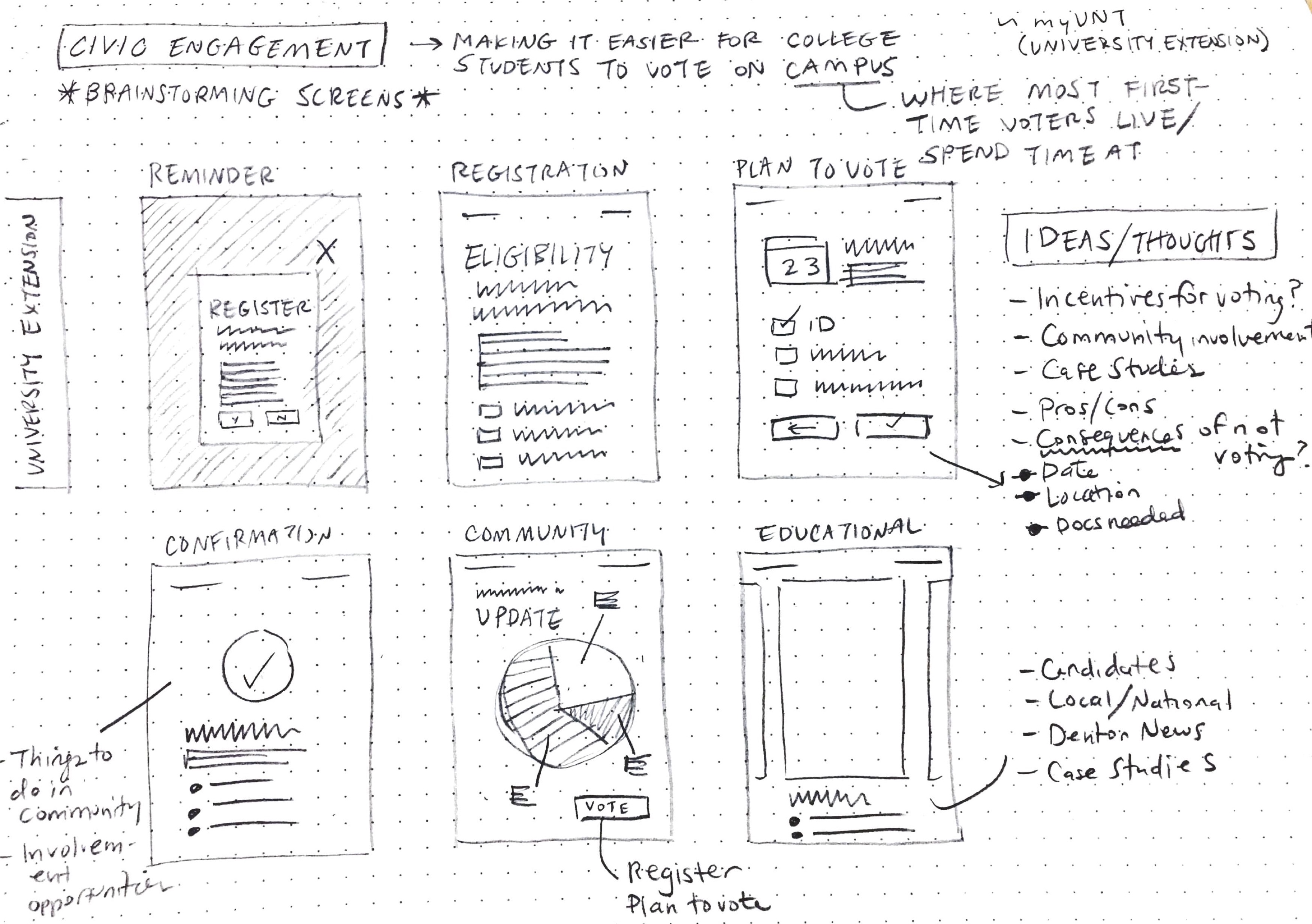 ---
SKETCHES & WIREFRAMES
Sketching black and white wireframes taught me to
iterate quickly

through concepts.

Designers need to be willing to change directions as research reveals new findings.
Don't fall in love with the first idea.
Testing + Modifications.
Conclusion.
---
︎

IMPACT ON USERS

︎︎︎ Young adult college students would have an

easier

and more

accessible

way to register to vote and learn.

︎︎︎ Young adults would have a

greater say

in national and local government.

︎︎︎ Middle schoolers would

learn and internalize

voting concepts, preparing them to confidently vote. ︎︎︎ This would ultimately help

shift the trajectory

of low voter turnout by equipping youth over time.
---
︎

VALUE FOR CLIENT ︎︎︎

This system is

adoptable

for diverse institutions. It is

flexible

and contains standardized information.
---
︎

WHAT I LEARNED ︎︎︎

Iterate quickly

to sift through initial ideas that are improved through user feedback.

︎︎︎

Interviews are essential

because they do not fail to provide the insights that are rare to come by.
---
︎
WHAT I WOULD DO DIFFERENTLY
︎︎︎
Include users sooner
throughout the entire design process. (I primarily relied on secondary sources for my intial design decisions.)
︎︎︎
Partner with university
administration and discuss feasiblity and explore potentional opportunities.
---
︎

FOR FUTURE ITERATIONS ︎︎︎

I would further explore

user flows for diverse users

with unique circumstances (like absentee voting, deaf, accessibility, etc.).
---
︎
HOW I'D MEASURE SUCCESS
︎︎︎ Task success rate: registering and voting
︎︎︎ Task completed time: to gauge efficiency
︎︎︎ Engagement and retention rates
︎︎︎
Experience survey (for qualitative feedback)
︎︎︎
Net promoter score (NPS): among college students, institutions, and community
---