Recyclar.
Problem:

Dallas is one of the biggest producers of garbage in the country, carting approximately 2.2 million tons of waste to landfills each year. Youch.




Challenge:

Dallas wants people to be able to easily reduce their waste, see the benefits, & be incentivized to do so. So, How might we guide people in things like composting, community gardens, & other environmental concerns?

Proposed solution:

Recyclar, a recycling app that helps cultivate zero-waste habits through community efforts, local incentives (gamification), and setting manageable goals.
READ MORE ON MEDIUM
︎



MENTORSHIP PROGRAM FROM
Dialexa

PRIMARY USERS
Dallas Young Adults

FIRST UNT DIALEXA COHORT
Josh P. (UX Designer)
Jonathon M. (UX Designer)
Lasamy S. (UX Designer)
Taylor L. (UX Designer)
Abril C. (UX Designer)
Kelsey Hopson (Mentor)

MY ROLE

Researcher and Designer

TOOLS

Figma, Google Slides

DELIVERABLE

App

︎︎︎
How it works.
︎
EXPERIENCE TAILORED TO USER & THEIR COMMUNITY
Join or start a recycling community

near you. In Dan's case, his West Dallas community is called "Team Seedling".

Like other social media avenues, users can share their bios and can easily

view progress.



Like a friend, this app saves learned

tips

and gives suggestions to help reduce waste.
PURPOSE

See your individual and communal growth and revisit learned lessons.
︎
SET YOUR OWN GOALS
Every person starts somewhere on their recycling journey. This app
helps you start

where you are most comfortable so that you can grow from there.

This onboarding quiz helps devise a

plan

to help you thrive.
PURPOSE

Set your own personal goals that are achievable for you. One step at a time.
︎

SCAN AND LEARN
Scan your recycable items and
earn points to redeem

at local businesses.

As you learn and practice zero-waste habits, help your local community.
PURPOSE

To help you make well-informed recycling decisions. Then help your community by redeeming your points at local shops.
︎
FRIENDLY COMPETITION
Add some spice to your day with some friendly competition. This leaderboard helps
keep track

of your many recycling points each person has made.

Check out how your friends are doing and make some new

like-minded friends.
PURPOSE

To make zero-waste habits a communal effort with some fun competition and accountability.
Problem: 2.2 million tons of waste/year.
︎
A STAGGERING REALITY
Dallas alone is responsible for 2.2 million tons of waste that goes to landfills each year. That's over 55,000 humback whales 🐋 (each ~40 tons). Youch.
︎
WHY SHOULD WE CARE?
Landfills have a direct effect on humans and the planet. To name a few: climate change, contamination, and destroying natural habitats for wildlife.
Challenge.
In order to keep up with innovative cities around the states, Dallas is making their way to zero waste. Dallas wants people to be able to easily reduce their waste, see the benefits, & be incentivized to do so. So, how might we guide people in things like composting, community gardens, & other environmental concerns?
Timeline.



︎

ADOPTED AGILE METHODOLOGY THROUGHOUT THE PROJECT.


Research: Let's meet Dan.



︎

PERSONA + EMPATHY MAP


DAN: THE ADULT NEW TO RECYCLING
A single first-time homeowner who is curious on learning how to shift into a zero-waste lifestyle as he enters a new life phase.

He is building a home garden, is environmentally inclined, and is a zero-waste newbie.

WHY AN ARCHETYPE PERSONA?
Specifying patterns found in a group of people with specific pain points paves the way for addressing the right problems for the right users. If you design for everyone, you design for no one.

GOALS
︎︎︎ Helping people and community
︎︎︎ A zero-waste life on budget
︎︎︎ An easy way for recycling
︎︎︎ Start a trend among friends
︎︎︎ Feel good for doing good
︎︎︎ Meet like-minded people
PAIN POINTS
︎︎︎ What is even recycable? Plastic labeling is too confusing and inconvenient
︎︎︎ Lives busy life so recycling feels like an extra effort
︎︎︎ Eco-friendly lifestyle often costs more money
︎︎︎ Generally unaware of environmental problems, unless they are mentioned on social media
---
FEELS
︎
︎︎︎ Hopeful
︎︎︎ Excited
︎︎︎ Curious and eager to learn
︎
︎︎︎ Anxious (new territory)
︎︎︎ Insecure
---
DOES
︎
︎︎︎ Started a garden
︎︎︎ Rides the bike and bus most days
︎︎︎ Started using paper straws
︎︎︎ Reads news on social media
︎︎︎ Asks friends about zero-waste.
︎︎︎ Looks into zero-waste meetups.
︎
︎︎︎ Throws food away because it goes bad easily
︎︎︎ Forgets what is reusable at home
︎︎︎ Mixes non-recycable and recycable plastics
---
THINKS
︎
︎︎︎ I'm excited to see my plants grow.
︎︎︎ I'm learning so much from social media influencers.
︎
︎︎︎ This world is evil.
︎︎︎ Is zero-waste lifestyle worth the investment?
︎︎︎ Will I eventually fizzle out?
︎︎︎Am I really making a difference?
︎︎︎ Ignoring environmental feels much easier.
︎︎︎ Am I on the right track and am I making progress?
---
SAYS
︎
︎︎︎ I feel good about helping the planet.
︎︎︎ Want to see pics of my plants?
︎︎︎ Do you want to try recycling out?
︎

︎︎︎ Does anyone else care about the environment?
︎︎︎ Are the environmental statistics accurate?
︎︎︎ People seem to be stuck in their own ways.
︎︎︎ My plant died.
Ideation.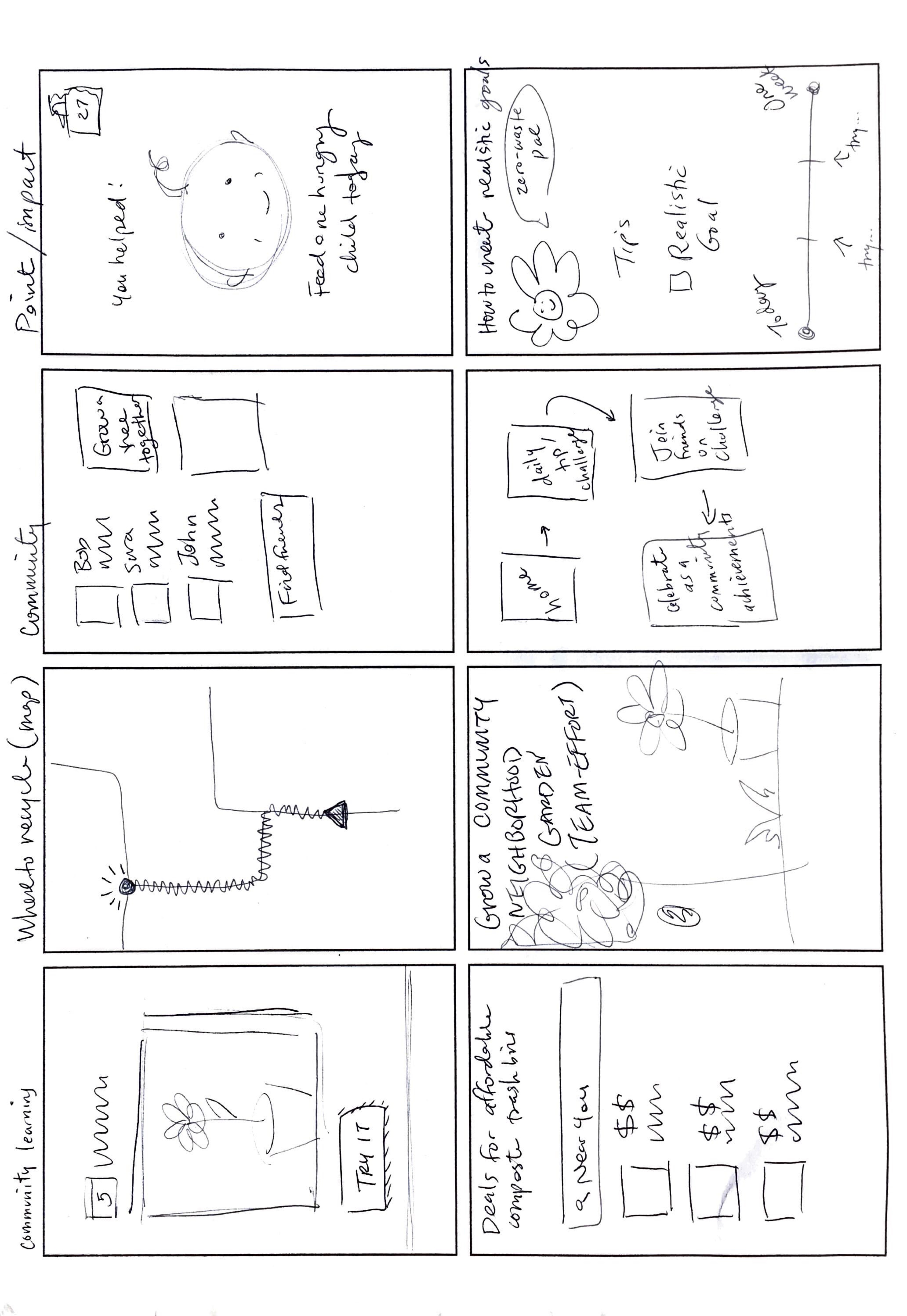 ---
THE POWER OF BRAINSTORMING WORKSHOPS
After getting our proto-persona, participating in workshops enabled us to brainstorm. Methods used: crazy 8's, empathy maps, prioritization matrices, and business model canvases.
---
CRAZY 8'S
This exercise helped me quickly jot down ideas to share with my team. Common themes:
︎︎︎ Community
︎︎︎ Incentivization
︎︎︎ Realistic goal setting
︎︎︎ Education aspect

---
BUSINESS MODEL CANVAS
I considered business opportunities and constraints, clarifying the direction for creating a feasible and viability of solution for Dallas residents.
---
WHY A DIGITAL SOLUTION?
Since digital usage is on the rise among working adults (persona age range), we decided to design an app that would easily facilitate community connection through gamification. The goal: to build long-lasting habits towards zero-waste while having fun!
---
VALUE VS. EFFORT MATRIX

Helped us realistically plan and prioritize what user flows to focus on for our MVP.
---
FROM HERE WE DETERMINED THREE TASKS:
1. Set personalized goals
2. Scan recycable items (to learn, earn, redeem points)
3. Track progress (through friendly community competition and accountability)
Strategy.
︎
THE GAME PLAN
As a way to help reach the zero-waste goals in Dallas, this system aims to cultivate achievable goals and long-lasting habits for the day to day life by bringing the community together, educating, and shaping habits one step at a time.
︎
TASKS
➊

Set personlized goals (onboarding quiz)
➋ Scan plastics to learn/earn points
➌ Track personal/community progress
Task 1: Dan sets personalized goals.
Task 2: Dan scans to learn and earn.
Task 3: Dan tracks progress (and adds friends).
Testing.
Conclusion.
---
︎

IMPACT ON USERS

︎︎︎ Users get to set up their own

customized journey

to develop zero-waste habits.

︎︎︎ Users

learn and get rewarded

for recycling.
---
︎

VALUE FOR DALLAS ︎︎︎

This system is

adoptable

for various communities. It is

flexible

and can strengthen community partnerships.
---
︎

WHAT I LEARNED ︎︎︎

Iterate quickly

to sift through initial ideas that are improved through user feedback.

︎︎︎ Considering business and engineering perspectives is critical to create a feasible product.
---
︎
WHAT I WOULD DO DIFFERENTLY
︎︎︎ Initiate/participate in more remote collaboration sessions. My team and I ubruptly had to split up tasks because of COVID. We were all learning how to work remotely.
︎︎︎ I would interview Dallas residents, research pain points and opportunities, and test product further.
---
︎

FOR FUTURE ITERATIONS ︎︎︎

I would further integrate user testing and go through more iterations.
---
︎

HOW I'D MEASURE SUCCESS ︎︎︎

Task success rate: scanning recyclable items to earn points

︎︎︎ Task completion time
︎︎︎

Engagement: how often user interacts with product

︎︎︎

Revenue: from "premuim" subscription accounts, partnerships with local companies, sponsorships, and advertising

︎︎︎

Net promoter score (NPS)
---