Cross-Cultural Guides
︎ UX Designer & Researcher
︎
Mobile app prototype,
pamphlet, and set of flashcards
Problem
Have you ever felt disoriented or out of place? Wishing you could connect with people different from you? You are not alone. Cross-cultural workers may also experience this in response to urgent global needs.

How might we equip cross-cultural workers to enter a new culture?
Designed Solution
This pamphlet, app, and set of flashcards provide a basic foundation so that cross-cultural workers can have strong and healthy partnerships in the U.S. and abroad.
Tools: IIllustrator, Xd, InDesign, Photoshop, and Miro
Starting with the user

Meet Jolene, the cross-cultural worker
Jolene's has been working for the World Health Organization (W.H.O.) for a few months and will soon go to the Middle East. Recently, Jolene's new Arab friend invited her to a Middle Eastern family gathering. However, she had no idea that sitting with the bottoms of her feet facing her Arab friends would offend them. She only knew cultural norms and expectations from her Arab friend. She couldn't change the past, but now feared unintentionally offending people in the future.
.
---
THE ROLE OF TRUSTED SOURCES
Jolene only knew what was culturally offensive through her trusted Arab friend
.
︎︎︎ Creating an educational resource filled with those golden nuggets of wisdom that only locals would know may help orient Jolene before heading to the Middle East.
---
THE TECH-CONSCIOUS ERA
Jolene is
tech savvy
and has her iPhone within reach at all times.
︎︎︎ Having a digital resource (with offline access) could be like a trusted friend on the go.
---
INFORMATION OVERLOAD
Jolene faces a lot of information on the web. But what is credible and relevant?
︎︎︎ Jolene would benefit from having a centralized source of information with locally-sourced and traceable information.
---
LIFE 'ON THE GO'
Since Jolene is on the go, she may need something accessible and concise that accommodates to different learning methods.
︎︎︎
I therefore chose to design a pocket-sized pamphlet with an app and flashcard version filled with information from locals.
Stakeholder map
Who might have an interest in this product?
Understanding a product's ecosystem through a stakeholder map exercise may provide insight into where there is value and where to prioritize efforts. This is especially useful when creating a product to test with users. It can also give insight into funding partnerships.
---
LEGEND
︎
Who
︎
Primary goal
︎
What they say

︎
What they do
︎
Strong connection
︎
Normal connection
︎
Weak connection
︎
Missing connection
---
STRENGTH IN NUMBERS
The W.H.O. has in immense network. In addition to local partnerships, the W.H.O.'s academic partners may provide credible information that Jolene seeks.
---
STRONG CONNECTIONS
There are strong connections between the W.H.O., workers, and the host country.
︎︎︎ Enable communication and collaboration between these parties through ongoing chats and shared information.
Research
Gold nuggets from an experienced traveler
After chatting with Alex, an recent traveler to Africa, I noticed the impact that
community

,

experiencial learning

, and a

learner's mindset

had on her experience. Her preparation and integration into a new culture included

a supportive community, learned through her own experiences, and was often reminded to take on a learner's mindset by mentors. As a result, her experience was personal, first-hand, and not done in isolation.
---
COMMUNITY-CENTERED LEARNING
Alex learned in community. She was not alone, but had shared experiences with other interns and her local relationships.
︎︎︎ Adding a community aspect to the resources (chat feature, accountability, shared goals, etc.) could enrich the user's shared experience.
---
REAL LIFE APPLICATION
Alex had cultural classes that challenged her to apply practical knowledge in the real world. For example, one day, she was taught by a local how to take a taxi. Afterwards, she was challenged to actually take a taxi.
︎︎︎ This educational resource would have an experiential learning aspect that would provide basic knowledge and then challenge the user to apply the knowledge.
Using primary & secondary sources
---
To find out what basic information to include in a cross-cultural resource, I asked my colleagues from the Middle East about their culture. They provided the 'non-obvious' tips like not eating or greeting people with your left hand because it is seen as "unclean". (In many Middle Eastern countries, the left hand is used to clean oneself with water after using the bathroom.)

︎︎︎ It must be emphasized that there is no "one" type of regional culture or society. The world is full of rich and diverse communities, groups, and cultures. Differences exist not only among countries but within countries as well.

︎︎︎ It seems impossible to talk about groups of people without generalizing. These deliverables attempt to be as accurate and specific as possible but do contain generalizations. They do provide insight into a culture, but the relevancy of the information will depend on the context and specific circumstances.

Strategy
These cultural guides (pamphlet, app, and flashcards) are designed to specifically give cross-cultural workers or travelers an
initial foundation

for entering a new culture. It can also be used for informal or small group instruction.
The nitty gritty of design

The system's visual language
Icons, color, and photography will be used to create contrast between geometric and organic shapes for a humanistic effect. The only deliverable that does not include photography is the pamphlet to reduce printing costs.
Pamphlet (pocket-sized)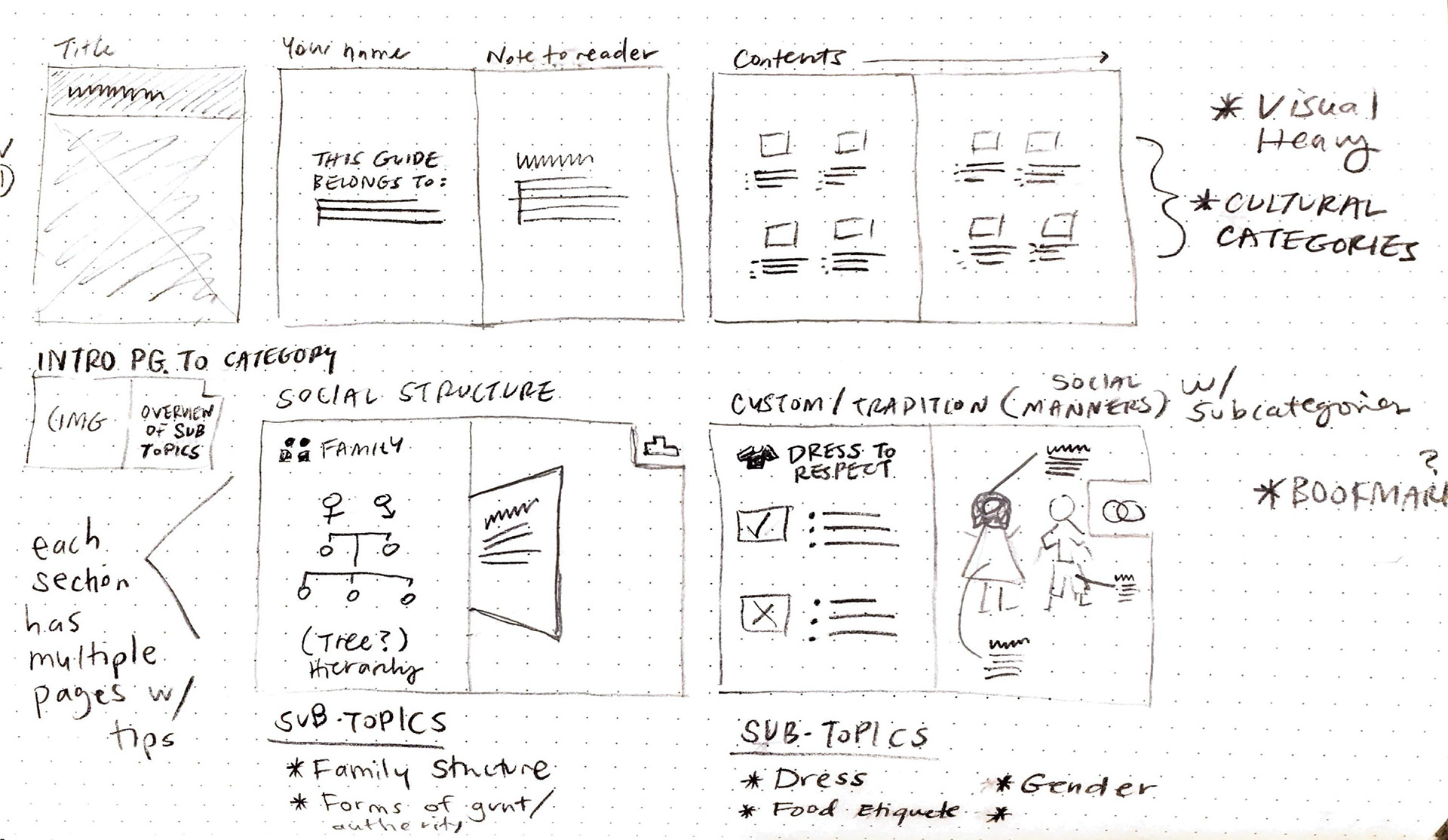 ---
PAMPHLET SPREADS
An introductory spread precedes the cultural information to keep the content organized (ex: Social Norms sets the stage for clothing, food, hospitality, and mannerisms).
App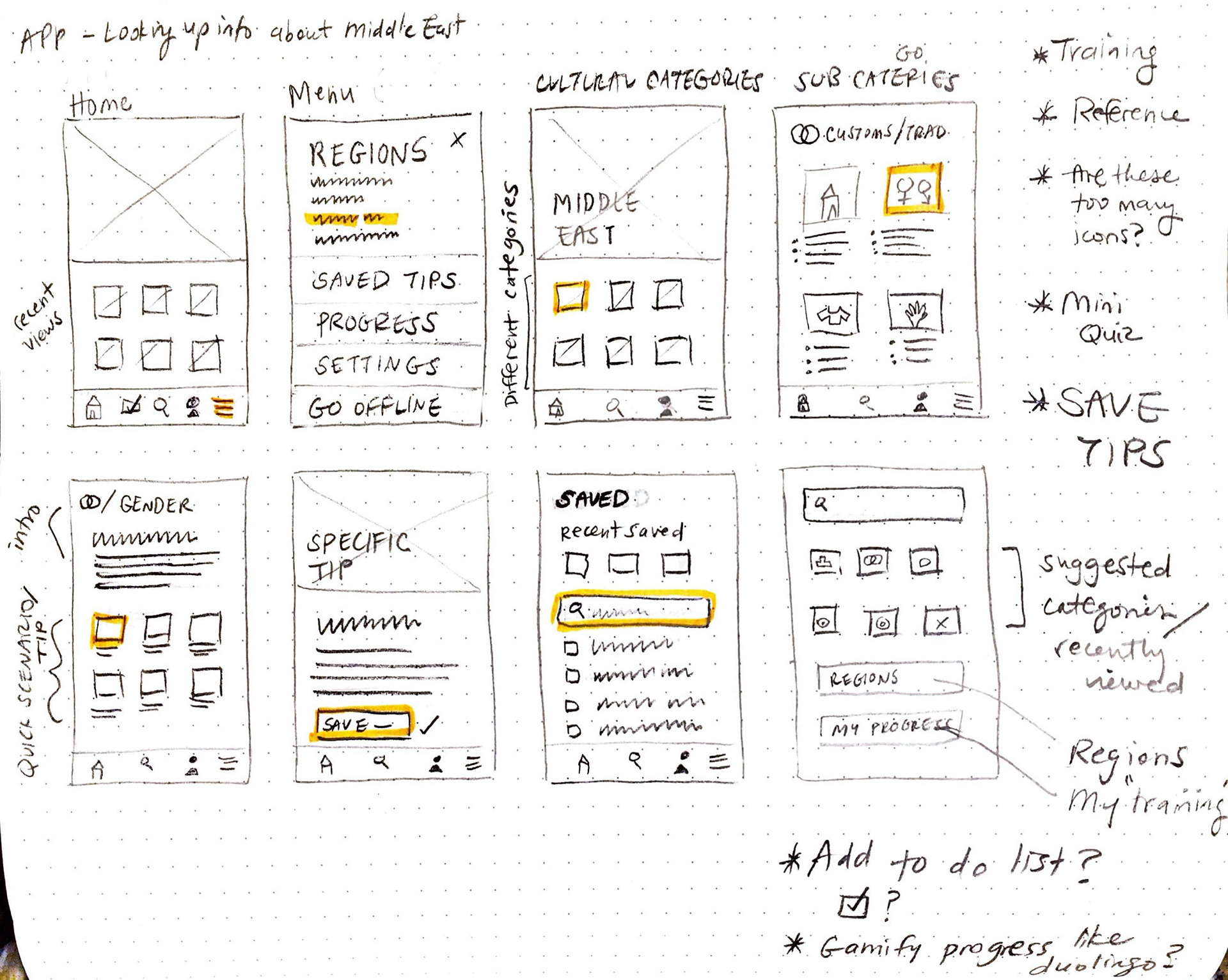 ---
COMMUNITY
As a way to build community, the user has the option to connect with people preparing for similar experiences. These groups can keep each other accountable, track of each other's progress, and connect with locals.


---
EXPERIENTIAL LEARNING
Instead of only stating the facts, the user may retain information more easily through experiential challenges that can be done in community.

---
MID FIDELITY
I originally had planned to only use geometric patterns throughout the app. However, I recieved valuable critique inviting me to integrate photography with people to humanize and contextualize the product.
---
USER FLOW
Jolene selects the "Middle East and North Africa" (M.E.N.A.) category to learns about clothing norms. In the second screen, the user has the option to choose a specific region. Photography is used to provide a general preview of the region.
Flashcards
---
LEARNING STYLES
No two people are the same. Likewise, learning styles may differ. As a result, the flashcards are another option for users to choose from to learn and retain information on the go.
Conclusion + Reflections
---
Impact & Value

Entering a new culture can be overwhelming. Many experience culture shock. This flexible educational resource (pamphlet, app, and flascards) intends to be like that trusted friend that is present when needed. It intends to teach, build community, and bring long-term retention through experiential learning.

This system can be adopted for various cultures and be part of the W.H.O.'s training programs.

---
Measuring Success
︎︎︎ User acquisition: how many people use app, cards, or pamphlets?
︎︎︎ Engagement: how often do users interact with products?
︎︎︎ Experience survey
---
What I learned
Design decisions driven by research is valuable and highly rewarding! My interview gave me much insights that I was not expecting.
︎︎︎ Understanding cultural awareness is key for international partnerships and experiences.
︎︎︎ Integrating community and experiential learning were key elements that helped interviewees learn and retain knowledge.

---
What I'd do differently
︎︎︎

I would include potential users from the beginning. I started interviewing people after I came up with a prototype.


︎︎︎

Integrate more community-based learning content.


︎︎︎

I would test the products with potential users.
︎︎︎
I would integrate more community and experiential learning opportunities. These insights came from an interview that was taken late in my design process.
︎︎︎ After learning about interviewing and data coding from a design anthropology class, I would interview more people and keep them involved in my entire process. (As seen in participatory design methodology).
---